Alvah Elwood Trent
---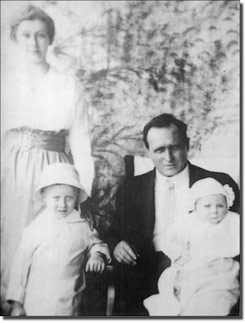 Ina and George Trent, with sons Jesse and Alvah.

---
Born: October 5, 1917 in McDowell, West Virginia
Sex: Male
Married: February 13, 1938 in Bland, Virginia
Died: September 19, 1967 in Beckley, West Vriginia



Spouse:
Lucy Mae Vaughn (December 24, 1918 Stuart, Virginia - September 19, 1967 Beckley, West Virginia)


Children:
Rhumelle Levon Trent (February 22, 1939 Eckman, West Virginia - )
George Ellem Trent, Sr. (August 20, 1942 McDowell, West Virginia -
Ethel Trent


---
Info:
Occupation: Mine Rescue Worker

Died of Black Lung Disease

Place of Burial: Woodlawn Cemetery, Bluewell, West Virginia

---
Sources:
Social Security Records: U.S., SS Death Benefit Records

Ivan Trent and Judith (Trent) Leezer, May We Remember, (Compiled: May, 1980).
Information provided by Melvin Trent
---

To send comments and suggestions, click here.

© 1995-2009 Drema Swader All rights reserved.