Ivan Momen Trent
---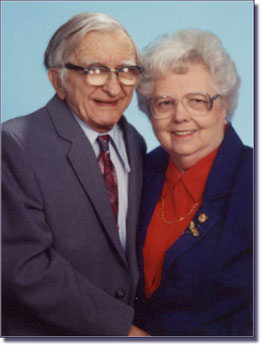 Ivan and Millie Trent.

---
Born: January 2, 1913 in McDowel, West Virginia
Sex: Male
Married: April 30, 1938 in Greenup, Kentucky
Died: January 11, 2002 in Columbus, Ohio



Spouse:
Mildred Irene Rose
Children:
Judith Lee Trent
John David Trent
---
Info:
Retired June 30, 1984 after 52 years with Hercules Trouser Co., now Kuppenheimer Co.

---
Sources:
Ivan Trent and Judith (Trent) Leezer, May We Remember, (Compiled: May, 1980).

---

To send comments and suggestions, click here.

© 1995-2009 Drema Swader All rights reserved.