John Henry Saunders, Sr.
---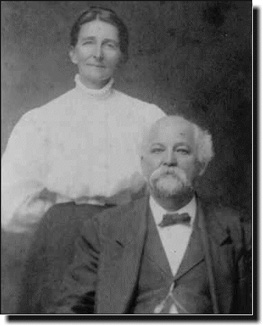 John Henry Saunders, Sr. with his wife, Callie Williamson

---

Born: July 22, 1850 in Bedford County, Virginia
Sex: Male
Married: August 28, 1872 in Purgatory Springs, Texas
Died: November 3, 1919 in San Marcos, Texas



Spouse:
Calladonia Modeline Williamson
Children:
Susan Sabra Saunders
Virginia Alice Saunders
Lillie May Saunders
Maggie Ann Saunders
Callie Fannie Saunders
John Henry Saunders, Jr.
William Edgar Saunders
Rosie Mabel Saunders
Thomas Joseph Saunders, Sr.
Louis Yell Saunders, Sr.
James Russell Saunders, Sr.
Mary Emma Saunders
Daniel Oatman Saunders,Sr.


---
Info: Place of Burial: San Marcos, Texas

---
Sources: The Saunders Family History, as told to Calla Day Enlow by Lillie Saunders Day, and from records compiled by Ed. M. Day and his niece, Fannie A. Quaife.
Information provided by Danny Saunders
Marshall Wingfields "Pioneer Families of Franklin County, Virginia"
Melvin A. Scott, Raney Collection, (Vol. 59, 60), Roanoke Public Library, Roanoke, Virginia
---

To send comments and suggestions, click here.

© 1995-2009 Drema Swader All rights reserved.