Frances Elizabeth Davis
---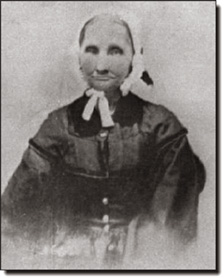 ---
Also known as: Fanny Davis Saunders
Born: December 1778 in Pittsylvania County, Virginia
Sex: Female
Married: November 8, 1804 in Pittsylvania County, Virginia
Died: June 10, 1835 in Bedford County, Virginia


| | | |
| --- | --- | --- |
| Father: | | Mother: |
| Thomas Davis | | unknown Dyer |
Spouse:
Daniel Green Saunders
Children:
Elizabeth Saunders
Polly Saunders (Mary)
Susan Ann Saunders
Benjamin Henry Saunders
Margaret Saunders
Thomas David Saunders, Sr.
William Saunders
Daniel Green Saunders,Jr.
Frances Saunders
Louisa W. Saunders
George Goob Saunders, Sr.
Catherine Cole Saunders
Ardena Saunders
Lavinia Saunders

---
Info: Died at Ivy Cliff, buried there, later moved to Radford Church Cemetery
Place of Burial: Radford Baptist Church Cemetery, Moneta, Virginia

---
Sources: Saunders Family Bible, Bedford County Library, Bedford County, Virginia.
Saunders file #1, Bedford County Museum, Bedford County, Va.
Viemister, Peter, "A History of Bedford Co.", Lynchburg Library, Lynchburg, Virginia.
Cemetery, Radford Cemetery, Bedford, Virginia
Automated Archives Inc. Marriage Records, Southern States, Vol. 1 (CD 229)
---

To send comments and suggestions, click here.

© 1995-2009 Drema Swader All rights reserved.