Fanny Jane Saunders
---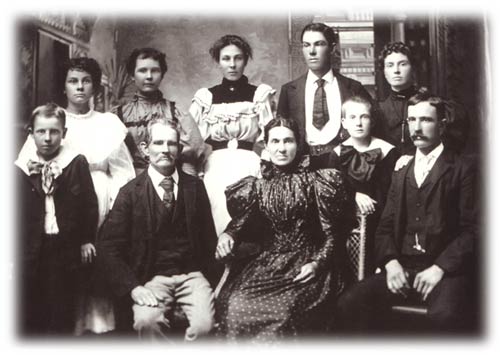 Cunningham family:
Back Row: Estelle, Mae Belle, Ida Sue, Milton Thomas, Harriet (Hattie)
Front Row: Herbert Gordon, Milton F., Fannie Jane, Phillip Ernest, Oscar
---
Also known as: Fanny Julius Saunders, Fanny Saunders Cunningham
Born: July 24, 1843 in Bedford County, Virginia
Sex: Female
Married: December 26, 1866 in Bedford County, Virginia
Died: January 5, 1922 in Roanoke, Virginia



Spouse:
Milton F. Cunningham
Children:
Philip Ernest Cunningham, Sr.
Estelle Cunningham
Herbert Gordon Cunningham
Oscar Cunningham
Mae Belle Cunningham
Milton Thomas Cunningham
Harriet L. Cunningham
Ida Sue Cunningham

---
Info: Place of Burial: Fair View Cemetery, Roanoke, Virginia

---
Sources: Melvin A. Scott, Raney Collection, (Vol. 59, 60), Roanoke Public Library, Roanoke, Virginia
Information provided by Max Donald Kirby
Newspaper, "M.T. Cunningham Commits Suicide," Roanoke Times, Saturday, May 26, 1906, Roanoke, Virginia.
---

To send comments and suggestions, click here.

© 1995-2009 Drema Swader All rights reserved.