Raymond Edward Trent
---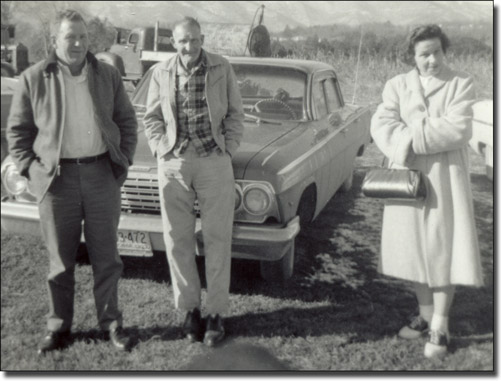 Raymond, Willie, and Lena Trent.

---
Born: March 27, 1925 in Schoolfield, Virginia
Sex: Male
Married: September 27, 1945 in Rustburg, Campbell County, Virginia
Died: May 15, 1989 in Lynchburg, Virginia



Spouse:
Lena Mae Nichols


Children:
infant Trent
Donald Edward Trent
Johnnie Franklin Trent


---
Info:
Earned Purple Heart in World War II (1945)

Occupation: Auto Mechanic

Place of Burial: Alta Vista Memorial Park, Alta Vista, Virgina

---
Sources:
Social Security Records: U.S., SS Death Benefit Records

Information provided by Bertie Mae (Saunders) Trent

Information provided by Bill Trent

Ivan Trent and Judith (Trent) Leezer, May We Remember, (Compiled: May, 1980)
---

To send comments and suggestions, click here.

© 1995-2009 Drema Swader All rights reserved.