Thomas Tazewell Saunders
---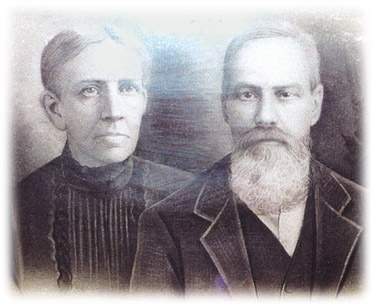 Mary Mildred and Thomas Tazewell Saunders
---
Also known as: Squire Tom Saunders
Born: October 14, 1837 in Bedford County, Virginia
Sex: Male
Married: About 1865 in Bedford County, Virginia
Died: June 22, 1919 in Bedford County, Virginia



Spouse:
Mary Mildred Morgan
Children:
Daniel Penn Saunders
George T. Saunders
Sarah Louisa Saunders
William Hammett Saunders
Samuel Henry Saunders
Jesse Christo Saunders
Mary Catherine Saunders
Robert L. Saunders
James Harvey Saunders
Homer Saunders


---
Info: Died of pneumonia
Place of Burial: Morgan's Church Cemetery, near Stone Mountain, Bedford County, Virginia

---
Sources: Melvin A. Scott, Raney Collection, (Vol. 59, 60), Roanoke Public Library, Roanoke, Virginia
Bedford County Death Records 1853-1860, 1868-1880-Neighbors, Bedford Library, Jones Memorial Library, Lynchburg, Virginia.
Obituary, Hannah Gill Saunders, The News & Daily Advance, January 6, 1998, Lynchburg, Virginia.
Information provided by Melvin Trent
Information provided by Max Donald Kirby

---

To send comments and suggestions, click here.

© 1995-2009 Drema Swader All rights reserved.