Fanny Lillian Saunders
---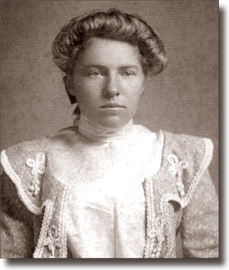 Click here for family photo.
Click here for photo with brother.
---
Also known as: Lillian Cassidy
Born: June 8, 1885 in Bedford County, Virginia
Sex: Female
Married: unknown
Died:June 24, 1959 in Danville, Virginia


Spouse:
Dan Cassidy


Children:
Guy Cassidy
Thelma Cassidy
Ruby Cassidy
Lucille Cassidy
Frances Cassidy
Beatrice Cassidy
Rosie Cassidy
Blanche Cassidy
Stella Cassidy
Nelson Cassidy

---
Info:
Place of burial: Chatham Burial Park, Danville, Virginia
---
Sources: Information provided by Bertie Mae Saunders and Louise Gammons.
---

To send comments and suggestions, click here.

© 1995-2009 Drema Swader All rights reserved.