Robert Harris Trent
---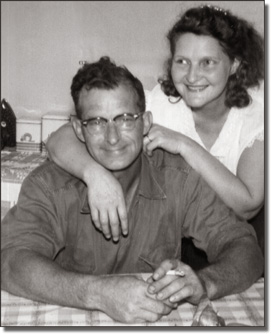 Robert Trent with his sister, Inez.

---
Born: November 18, 1911 in Campbell County, Virginia
Sex: Male
Married: March 18, 1933 in Lynchburg, Virginia
Died: October 15, 1983 in Lynchburg, Virginia



Spouse:
Doris Hale Hawkins
Child:
Larry Gene Trent, Sr.
---
Info:
Occupation: Automobile Repair Shop Owner
Place of Burial: Presbyterian Cemetery, Lynchburg, Virginia

---
Sources:
Social Security Records: U.S., SS Death Benefit Records
Ivan Trent and Judith (Trent) Leezer, May We Remember, (Compiled: May, 1980), and Addition 1984.
Certificate of Marriage - Robert Harris Trent & Doris Hale Hawkins, (Lynchburg Courthouse, Lynchburg, Virginia, March 17, 1933).
---

To send comments and suggestions, click here.

© 1995-2009 Drema Swader All rights reserved.