Thomas Reuben Trent
---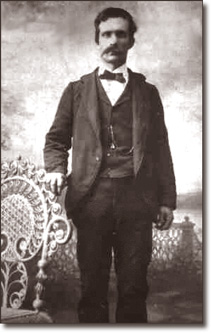 Click here for photo with family.

---
Born: November 13, 1874 in Rustburg, Campbell County, Virginia
Sex: Male
Married: April 16, 1901 in Roxboro, North Carolina
Died: March 3, 1923 in Lynch Station, Virginia



Spouse:
Mamie Lou Frazier
Children:
Ida Katherine Trent
Infant Trent (born 1903, died 1903)
Walter William Trent
Cleland Milton Trent
Ruth Thomas Trent
Robert Harris Trent
Gilliam Harvard Trent
Inious Cornelius Trent
Reuben Columbus Trent
Aubrey Harding Trent
Lyle David Trent


---
Info:
Occupation: Farmer
Place of Burial: Lynch Station, Virginia
Died of Heart Attack

---
Sources:
Birth Certificate, Page 164, Line No. 193, Va. Vital Records
Ivan Trent and Judith (Trent) Leezer, May We Remember, (Compiled: May, 1980).
Census Records, 1900 Campbell County, Virginia.
Information provided by Bertie Mae (Saunders) Trent
Cemetery, Presbyterian Cemetery, Lynchburg, Va.
---

To send comments and suggestions, click here.

© 1995-2009 Drema Swader All rights reserved.