Thomas Henry Trent
---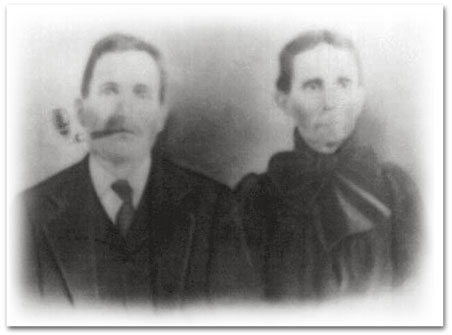 Thomas Henry Trent and his wife, Caroline Susan Smith
Click here for photo with family.

---
Born: February 10, 1837 in Campbell County, Virginia
Sex: Male
Married: March 7, 1870 in Pittsylvania County, Virginia
Died: May 17, 1910 in Campbell County, Virginia



Spouse:
Caroline Susan Smith
Children:
Fannie Margaret Trent
James William Trent.
Thomas Reuben Trent
George Gilliam Trent
Susan Rosa Trent
Emma Caroline Trent
Jacob David Trent
John Lewis Trent
Etta Jeanette Trent
Charles Momen Trent
Lin Barr Trent
Della Urania Trent
---
Info:
Occupation: Farmer
Place of Burial: Trent Family Cemetary, Campbell County, Virginia
Hair Color: Red
Listed in census records as 15 in 1850 (as of June 1, 1850), which puts date of birth as 1835.
Served in Civil War under General Robert E. Lee.
His brother, James, had been killed in the Civil War. His parents marked his birthdate up a couple of years in the family bible in order to keep him out of the war, but the war dragged on, and he had to go anyway.

---
Sources:
Ivan Trent and Judith (Trent) Leezer, May We Remember, (Compiled: May, 1980).

---

To send comments and suggestions, click here.

© 1995-2009 Drema Swader All rights reserved.