Etta Jeanette Trent
---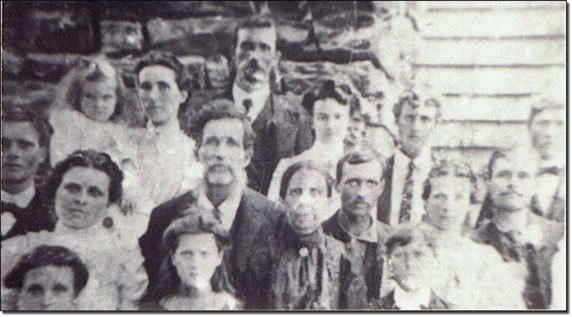 Back Row: John Trent, Fannie Blount holding Reva Trent, James W. Trent, Jeffie Hall (Reva's Aunt), Jacob David, and Charlie Trent.
Middle Row: Emma Caroline Trent, Thomas Henry and Caroline S. Trent, Thomas R. Trent, Rosa and Jack Bentley.
Front Row: Etta Trent(partial), Della, and Lin Trent.

---
Born: December 29, 1886 in Campbell County, Virginia
Sex: Female
Died: April 9, 1964 in Campbell County, Virginia



---
Info:
Place of Burial: Trent Family Cemetery, Campbell County, Va

---
Sources:
Ivan Trent and Judith (Trent) Leezer, May We Remember, (Compiled: May, 1980).
---

To send comments and suggestions, click here.

© 1995-2009 Drema Swader All rights reserved.