Reuben Columbus Trent
---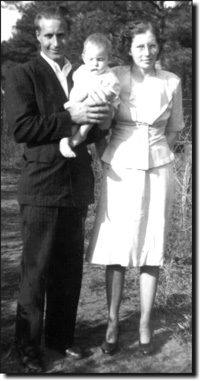 Reuben Trent with his wife Bertie Saunders Trent and baby Joyce

---
Born: September 1, 1918 in Campbell County, Virginia
Sex: Male
Married: December 23, 1943 in Lynchburg, Virginia
Died: July 8, 1982 in Lynchburg, Virginia



Spouse:
Bertie Mae Saunders
Children:
Melvin Clyde Trent
Janet Katherine Trent
Joyce Marie Trent
Drema Darlene Trent
Donnie Ray Trent
Karen Sue Trent

---
Info:
Died of lung cancer.
Place of Burial: Fort Hill Cemetery, Lynchburg, Virginia

---
Sources: Birth Certificate, Registration Dist. 153, Reg. # 11, File # 41676
Certificate of Marriage, State Department of Health, Richmond, Virginia
---

To send comments and suggestions, click here.

© 1995-2009 Drema Swader All rights reserved.